Pension and Restaurant "Ve dvorku"


Address :
Plešivec 144
381 01 Český Krumlov

Telephone :
+420 380 729 391

E-mail :
penzion.vedvorku@atlas.cz

Pension and restaurant are situated in historical part of town approximately 5 minutes of walking from town centre, in comfortable architecturaly designed newly restored historical building. Part of this building is a shop with tobacco products, daily newspapers, kosmetics, chemist's and souvenirs. Capacity of restaurant downstairs is 30 seats, the terrace which capacity is 50 seats is open during the summer. Rooms in pension are equiped with own bathrooms, toilets. It is also possible to add another bed, dogs can be accommodate with extra charge of 100,- Kč (6 DEM) per day. Parking is available too.

D i s t i n c t i v e d i s c o u n t f o r l o n g - t e r m s t a y s ! ! !

Accommodation :

1 x 2 beds
price 800,- Kč
(40 DEM)
1 x 2+2 beds
price 1.200,- Kč
(65 DEM)
1 x 4 beds
price 1.600,- Kč
(70 DEM)
board :
Restaurant is open all the day long. We can offer delicious food, regional specialty, pork delicatessen, confectionery.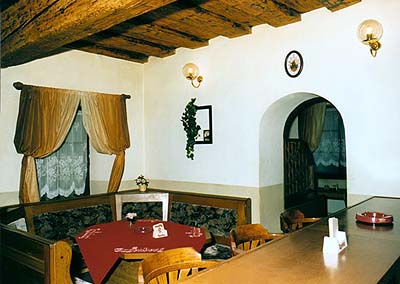 Other services :
Possibility of deposition of valuable things to the safe, reservation of tickets for open-air theater with revolving auditorium which is situated in castle garden and to other cultural events in town, possibility of horse-riding, canoeing, cycling etc.
Further information :
List of Eating Facilities in Český Krumlov
List of Accommodation Facilities in Český Krumlov
Tourist Service in Český Krumlov
Tourist Service in the Český Krumlov Region

---
© Sdružení Oficiálního informačního systému Český Krumlov, 1999
Number of visitors this page since 17th May 1999 :

0